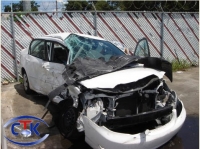 ACCIDENT INVESTIGATIONS

South Florida Accident Investigations

Cory T. Knight has investigated thousands of personal injury accident cases in Florida. Our Florida private investigators have assisted attorneys and individuals in car crashes, bicycle accidents, train accidents, train deaths, medical malpractice cases, and many other injury / accident cases. The legal consequences of auto accidents are often in proportion to the severity of the accident. Nearly all common law jurisdictions impose some kind of requirement that parties involved in a collision (even with only stationary property) must stop at the scene, and exchange insurance or identification information or summon the police. Failing to obey this requirement is the crime of hit and run.
Parties involved in an accident may face criminal liability, civil liability, or both. Usually, the state starts a prosecution only if someone is severely injured or killed, or if one of the drivers involved was clearly intoxicated or otherwise impaired at the time the accident occurred. Charges might include driving under the influence of alcohol, assault with a deadly weapon, manslaughter, or murder; penalties range from fines to jail time to prison time to death.
As for civil liability, automobile accident personal injury lawsuits have become the most common type of tort. Because these cases have been frequently litigated, the legal questions usually have been answered in prior judgments. Therefore, the courts most usually decide solely the factual questions of who is at fault, and how much they (or their insurer) must pay out in damages to the injured plaintiff. CTK INVESTIGATIONS, LLC and our Florida private investigators, can assist during this very trying time by having one of our Florida private investigators assist you and your Florida car crash attorney with your case. If you have any questions, feel free to contact Cory T. Knight, or call us at (954) 652-0733.
Automobile Accidents
According to statistics released by the United States Department of Transportation (USDOT), more than 1 out of 4 all automobile drivers were involved in car accidents in a five year period. Each year, car accidents claim more than 40,000 lives and more than 3 million people are injured due to automobile accidents. In Florida, as elsewhere, car accidents have become a common sight. Our Florida private investigators have worked with literally thousands of automobile accident investigations. We offer individualized investigations as well as investigations for personal injury attorneys and workers' compensation attorneys.

If you have lost a loved one in a car accident, or if you have suffered property damage or personal injury as a result of an automobile accident, The South Florida Private Investigation agency of CTK INVESTIGATIONS, LLC may be able to assist you. CTK INVESTIGATIONS, LLC has successfully assisted clients who were involved in automobile accidents, motorcycle accidents and truck accidents. In a recent case, CTK INVESTIGATIONS, LLC worked with a client who suffered lumbar spine injuries and had a percutaneous lumbar discectomy as a result of low impact auto accident. Thanks to the investigative help of CTK INVESTIGATIONS, LLC, combigned with the legal assistance of a south Florida personal injury attorney, the jury returned a $4.2 million verdict in favor of the our client. Our Florida private investigators were able to prepare trial exhibits for the plaintiff's attorney and for jury presentation. Our investigation agency can assist you with all of your trial needs.

If you have been involved in an automobile accident or have lost a loved one due to a car crash, call Cory T. Knight today at (954) 652-0733, or click here for a FREE consultation. We can help you understand your investigative and legal options; furthermore we can help you determine whether you have a case. We can help you get the compensation you deserve for your medical expenses and your pain and suffering, by possibly referring you to a personal injury law firm that has assisted many of our clients.

There are many reasons why a motor vehicle accident may occur. Drunk drivers, hit and run accidents, uninsured drivers, underinsured drivers, and rollovers can all cause motor vehicle collisions. A car accident may involve a personal car, a commercial vehicle, an SUV, a semi-tractor trailer, or other vehicle, and each of these circumstances needs to be carefully considered by qualified Florida private investigators and south florida accident attorney. Our licensed Florida investigators can evaluate your situation and can help ensure that you get proper treatment. In some cases, automobile accidents can be caused by defective car design or by defective products. These can include defective tires, airbags, seat belts, or gas tanks. CTK INVESTIGATIONS, LLC have successfully investigated thousands of car accident cases in Florida and assisted local attorneys that represented car collision survivors.

An automobile or motorcycle accident can be devastating. It can cause burns, mental trauma, loss of life, severe burns, and even permanent injury. Survivors may require therapy, extensive rehabilitation, surgical reconstruction, and considerable time missed at work. Insurance may cover only a tiny portion of these expenses. Our Florida private investigators can possibly refer you to local Florida personal injury attorney that can help you get the compensation you deserve. These south Florida personal injury attorneys can assist you and help to replace lost income, ensure you get the quality medical care you deserve, and seek the maximum compensation for your pain and suffering possible. Our Florida private investigators have a comprehensive understanding of Floria PIP laws, we understand all aspects of BI, UM, and UIM claims.

In many cases, the person who caused a car accident was negligent. An experienced South Florida private investigator can help you and other survivors get the compensation they are entitled to by law - sometimes even without the necessity of a lawsuit. If you have been in a car collision, you will want a private investigation agency with experience. CTK INVESTIGATIONS, LLC has more than twenty years of insurance claims experience.

If you have suffered injury in an automobile accident, you may be entitled to Personal Injury Protection (PIP) of up to $10 000.00. This money can help you pay for medical costs and can help you replace lost income. Depending on your situation and on the accident, you may be entitled to other forms of compensation. CTK INVESTIGATIONS, LLC can work with you to help you get as much financial compensation as possible so that you can start again.
There are no up-front costs to consulting with CTK INVESTIGATIONS, LLC. There are no hidden costs and if Cory T. Knight refers you to a personal injury attorney, you will not have to pay that firm anything if they do not win your case or get an out-of-court settlement. We can meet at your hospital room, office, or home for a no-strings complimentary consultation. This is a chance for you to ask questions and get personalized information about your case. You can speak with one of our qualified South Florida Private Investigators any time you need to -- 7 days a week, 24-hours a day.
Feel Free to contact Cory T. Knight at 954-652-0733.
Auto Accidents Info - Car Accident Private Investigator in South Florida
Careless and aggressive driving is an unfortunate reality in our daily lives, and auto accidents have become a regular occurrence on our highways and streets, if you drive in south Florida and on I-95 you know this is the truth. Most of us have at one time or another been involved in a car accident, but we often fail to realize the extent to which we are vulnerable on the road. At C.T.K. INVESTIGATIONS, LLC, we have seen first hand the devastating consequences auto accidents can have on innocent victims and their families. From sky high medical bills to lost wages and crippling injuries, victims must overcome serious obstacles to get their lives back in order. This is why immediately following auto accidents, our Florida private investigators and attorneys in south Florida are committed to helping victims recover both physically and monitarily for your injuries.
If you have been involved in a car crash, you may be entitled to compensation for property damage, bodily injuries, and pain and suffering. Even if you are unsure of who was at fault, our private investigation firm may be able to help. Please contact Cory T. Knight at C.T.K. INVESTIGATIONS, LLC today to speak with our car accident investigators, located in Hollywood and cities throughout Florida.
What to Do if You Are Involved in an Auto Accident
How will a Car Accident Private Investigator or Attorney Help?
What You Should Know:
Following serious auto accidents, victims can expect vehicle property damage to be the least of their problems. Serious bodily injury can be sustained not only from the initial contact with the other vehicle, but from the secondary impact within your own vehicle. And despite the fact that vehicles are designed with new and improved safety features, auto accidents remain the leading cause of death among young adults.
Our south Florida private investigator agency is well aware that injuries associated with auto accidents can wreak havoc on the lives of victims and also the lives of their family members. For this reason, the car accident Florida private investigators and south Florida personal injury attorneys we work with at our Hollywood, Florida agency are committed to offering the type of invaluable investigative and legal assistance and guidance that puts families on the path to recovery. Our auto accident investigators and the south Florida personal injury attorneys we deal with can help you and your family receive financial compensation for some of the following:
Property damage
Lost wages
Pain and suffering
Medical Expenses
Disfigurement and traumatic brain injury
Funeral costs (following the death of a loved one)
Emotional trauma
and many more
If you would like to speak with one of our auto accident private investigators, please feel free to contact Cory T. Knight at C.T.K. INVESTIGATIONS, LLC in Hollywood, Florida today.
What to Do if You Are Involved in an Auto Accident
The first moments following an auto accident can be extremely hectic and confusing. If you are involved in a collision, our auto accident attorneys advise you to take the following steps immediately to ensure that your legal rights are protected:
Dial 911 – In Florida, a police report must be completed after all auto accidents involving property damage exceeding $500, injury, or death. Call 911 to report the accident and make sure to advise the 911 operator of any injuries.
If possible, move your vehicle to the side of the road and turn off your ignition (and the ignition of other cars involved in the accident). Stand apart from the vehicle while calling for help to avoid injury in case the car is hit again. If parties are injured, do not attempt to move them unless they are in immediate danger.
Our car accident investigators always recommend that you avoid admitting fault or discussing fault with other parties involved in the collision. It is best to avoid confrontation and cooperate fully with the police.
Exchange information with all parties involved in the collision (again, avoid discussions of fault). Make sure to write down registration numbers, drivers license info, and insurance info.
Check for witnesses to the auto accident – if there are witnesses obtain their contact information (including work and home phone numbers).
If you are experiencing any pain, seek medical attention immediately (even if you feel the injury is minor).
Make sure to photograph your vehicle (before repairs are completed) and injuries sustained from the crash. If you have a cell phone camera available you may want to photograph the crash scene and vehicles involved in the collision.
Above all, protect your rights. You are not required to give any statements to the other party's insurance company. While you should cooperate with your own insurance company, you may want to consider consulting one of the Florida auto accident investigators or we may be able to recommend one of the south Florida personal injury attorneys that have assisted our clients over the years before giving a statement. Call Cory T. Knight today at (954) 652-0733 or click here to e-mail us with your questions.
How will a Car Accident Private Investigator Help?
Anyone who has been involved in a minor auto accident knows that you can sometimes resolve these types of claims without the assistance of an investigator or attorney; however, when serious injury or property damage is involved, victims of auto accidents can benefit greatly from the assistance of the car accident private investigators located in our Hollywood, Florida agency.
The reality is that car accident claims are anything but simple to resolve. Our auto accident investigators understand the rules of the road, and we employ experts who are capable of reconstructing accident scenes to discover the true causes of collisions, and prove damages in low impact cases. We are familiar with the tactics insurance companies use to avoid paying out claims, and we fight aggressively for victims to ensure they receive the compensation they deserve. If you have been involved in an auto accident, having one of our knowledgeable car accident private investigators preserving your interests can be the difference between receiving a small settlement or the substantial sum you deserve.
Contact the Auto Accident Investigators at C.T.K. INVESTIGATIONS, LLC
If you or someone you love has recently been involved in an auto accident, our south Florida car accident private investigators in Hollywood and throughout Florida can evaluate your claim and help you move forward with your case. Please click here for answers to common questions about auto accidents and find out what do to following a collision. If you would like to speak directly with one of our Florida auto accident private investigators or you would like to hear about some of the attorneys that have represented some of our clients throughout the years, contact the private investigation agency of Cory T. Knight at CTK INVESTIGATIONS, LLC in Hollywood or any of our other Florida locations.top


Air Bag Defect
Air bags, when used properly with a seat belt, can save lives. Since 1987 the National Highway Traffic Safety Administration (NHTSA), the agency responsible for regulating air bags, estimates that air bags saved a total of 1,500 people. Air bags, however, have also resulted in some negative consequences. Since they were first introduced in the 1970's, air bags have been a center of controversy in the automotive industry. Although touted as a lifesaving device, air bags have been responsible for numerous fatalities. From 1996 to 2000, 191 people died -116 of those children- and 160,000 adults were injured in cases where the air bag was or was suspected to be the cause.
In many cases, the deaths came in low-speed crashes where the force of the deploying air bags proved fatal. Although engineers assert that the number of lives saved by air bags is far larger than the number of people killed, occupant deaths have caused a backlash against air bags. Manufactures have some blame for the dangers resulting from airbags. After years of stalling to install air bags, manufacturers only decided to introduce air bags to the general public when consumers began to demand for added safety features in vehicles. Manufactures, seeking to commercialize on consumer fears, did not adequately test air bags to determine there affect on occupants of various shapes and sizes located in different positions. Instead, manufactures simply decided to design air bags that met the minimal federal safety requirements even though the federal government encouraged manufacturers to go beyond the minimum requirements and design air bags that would protect occupants of various shapes and sizes located in different positions.
Air Bag Mechanics
Deaths and injuries from air bags are largely due to the explosive action that takes place during deployment. An air bag deploying is not a serene, light, and fluffy pillow softly emerging to cushion the blow as generally seen on television; rather it is an intense release of energy in a gas filled, nylon coated balloon that detonates at 200 m.p.h. An air bag deployment is almost deafening. The violent eruption of an air bag can throw the driver's hands from the steering wheel and cause injuries, even fractures, to the hands and wrists. If the person comes into contact with the air bag during its deployment, it can cause abrasions to the face. In some cases, drivers have suffered serious chemical burns from the alkaline aerosol gas in the air bag.
The Role of the NHTSA
The NHTSA, under the U.S. Department of Transportation, was established by the Highway Safety Act of 1970 as the successor to the National Highway Safety Bureau to carry out safety programs under the National Traffic and Motor Vehicle Safety Act of 1966 and the Highway Safety Act of 1966. The NHTSA is responsible for reducing deaths, injuries and economic losses resulting from motor vehicle crashes. This is accomplished by setting and enforcing safety performance standards for motor vehicles and motor vehicle equipment. In early 1996, after reports of air bag related deaths, the NHTSA created new rules that allowed manufactures to install switches to passenger-side air bags in all types of vehicles. Although this an other new rules have improved safety standards, an air bag - like any product - may be defective because of improper design or manufacturing. Since 1997, at least 3,000,000 vehicles have been recalled due to air bag related problems.
Air Bag Design Defect
Concerns involving deaths now appear to have been resolved due to additional federal regulations implemented in 1998 that allow second-generation bags to deploy with less force. The controversy involving air bags today primarily centers on passenger side bags. Virtually all driver-side air bags come with tethers, internal straps that keep air bags-which explode out of dashboards at speeds of up to 200 m.p.h.-from inflating too far into the vehicle compartment. But many passenger-side air bags do not have tethers. It is estimated that 30 million to 40 million vehicles on U.S. roads may have untethered passenger-side air bags. The exact number of automobiles with untethered passenger-side bags is unknown. In fact, Auto companies argue that the exact number doesn't matter because untethered air bags are safe. However, according to a 1992 study by NHTSA titled "Air Bag Deployment Characteristics Final Report," found that $3 tethers "significantly affected" the distance an air bag extends into a vehicle from the dashboard. In 1997, another technical study published by the Society of Automotive Engineers looked at the various kinds of upper torso injuries that occurred when steering-wheel air bags deployed. That study concluded that untethered bags are four times more likely to cause eye injuries than tethered bags.
Children and Air Bags
Despite improvements, children still remain especially at risk, particularly if they are sitting close to the passenger side air bag when it deploys. The bag expands so quickly that it could cause serious harm or even death to a small person. Fatalities involving children have a number of fairly consistent characteristics. First, as to restraint usage, the infants are in rear-facing infant restraints. The older children are generally not using any type of restraint. Second, the crashes in which the infants and older children were fatally injured occurred at relatively low speeds. Third, the fatally injured infants and older children were very close to the dashboard when the air bag deployed. Rear-facing child seats are very close to the dashboard in a crash, even in the absence of pre-impact braking. As to almost all of the older children, the non-use or improper use of safety belts in conjunction with pre-impact braking resulted in the forward movement of the children such that they were very close to the air bag when it deployed. Because of this proximity, the children appear to have sustained fatal head or neck injuries from the deploying passenger air bag. These sorts of injuries may be prevented by promoting driver safety and seat belt use.
top

Air Bag Litigation
Awareness is key, not only in preventing injuries but also protecting your legal rights. Since 1996, when the federal government and manufacturers announced that airbags could be dangerous, victims involved in air bag lawsuits have found it surprisingly difficult to prove manufacturer liability. The reason for this is in part due because juries are less likely to rule in favor of drivers or passengers when they are at fault or negligent because they were not wearing a seat belt or the seat belt was improperly fasten. An example of this trend was evidenced in a 1997 Arizona airbag lawsuit involving a 5 year old front seat passenger (Tarango v. Ford, No. CV 98-00262). The 5 year old passenger was killed when his air bag struck under his chin and pushed his head upward breaking his neck. The eight jurors in the case took only 10 minutes to find that Ford was not negligent because the 5 year old victim was wearing only the waist portion of the seat belt and not the shoulder harness. Cases similar to this is can be difficult to overcome the public's perception that the fault lies with the family for allowing a child to sit in the front without wearing a seat belt. Despite these cases, many confidential settlements involving air bag liability have been reached. Specifically, automakers are less likely to litigate and opt for a settlement when the air bag claim involves a properly victim in a low-speed crash. Circumstances such as these show that the auto industry admits to producing a defective product and failing to adequately warn the public of the danger.
In the event a person is involved in an auto accident and is injured as a result of an air bag deployment, two important steps must be taken. First, preserve the vehicle and have the vehicle inspected by an expert. Second, take photographs of the damaged vehicle and physical injuries sustained. Taking these important precautions in the event of injuries sustained by an air bag ensures that your rights are protected.
If you or someone you know has been hurt by an air bag, it is important to seek medical and legal assistance as soon as possible. In all product liability cases it is essential that measures be taken promptly to preserve evidence, investigate the procedure in question, and to enable physicians or other expert witnesses to thoroughly evaluate any injuries. Don't delay! You may have a valid claim and be entitled to compensation for your injuries, but a lawsuit must be filed before the statute of limitations expires. We may be able to recommend a south Florida personal injury / product liablity attorney to assist you with your case.
Bicycle Accidents
Bicycling accidents cause many fatalities and personal injuries each year. Many bicycle accidents are completely preventable, as they are usually caused by the negligence of motorists or by defective bicycles and products. If you are a pedestrian or cyclist who has survived an accident or if you've lost a loved one to a bicycle accident, The south Florida private investigation firm of CTK INVESTIGATIONS, LLC can help. We have successfully represented many clients who have suffered due to the negligence of another person. We have helped many bicyclists get excellent medical care and the support they needed to rebuild their lives after an accident.
Bicycle collisions and bicycle accidents can cause severe injuries. Neck and head injuries are very common, and many bicyclists suffer brain damage after a serious bicycle accident. Spinal cord injuries, nerve damage, broken limbs, and even permanent injuries are not uncommon with this type of accident. Unfortunately, cyclists involved in accidents often miss considerable amounts of work while they are recovering. Injuries may require reconstructive surgery or lengthy and expensive medical treatment. Not all insurance companies are willing to pay a bicyclist without a struggle -- don't forget, many insurance companies hire attorneys of their own. Bicyclists should hire their own professional Florida PRIVATE INVESGIGATOR to investigate the accident and potentially recommend a personal injury attorney to represent them so that they can get the best medical treatment and the best support they can.
A bicyclist or pedestrian who has been injured in an accident may be entitled to Personal Injury Protection (PIP) benefits up to $10,000 from the vehicle that injured them or from any vehicle owned in their household. In order to get the full Personal Injury Protection (PIP) benefits you may be entitled to, it is important to speak to qualified South Florida Private Investigator. The investigators at CTK INVESTIGATIONS, LLC -- who have experience dealing with bicycle injury cases.
Our qualified Florida Private Investigators can help you understand your legal rights and can help you decide from the many options available to you. Our Florida investigators can investigate your case, look into your specific situation, and work with everyone involved in the accident -- including any insurance companies -- to make sure that you get the help you need quickly. With good Florida private investigator by your side, you may be able to enjoy better medical care and additional assistance that you may need to get back on your feet.
If you or a loved one has been injured in a bicycle accident, or if you've lost someone due to bicycling accident, contact The South Florida Private Investigators at CTK INVESTIGATIONS, LLC or call us at 954-652-0733 to set up a FREE consultation. There is no obligation for this FREE consultation, and we can easily meet in your office, hospital room, or home to discuss your case.


CTK INVESTIGATIONS, LLC also handles some of the following types of cases: