Car Accidents

Florida Automobile Accident Private Investigators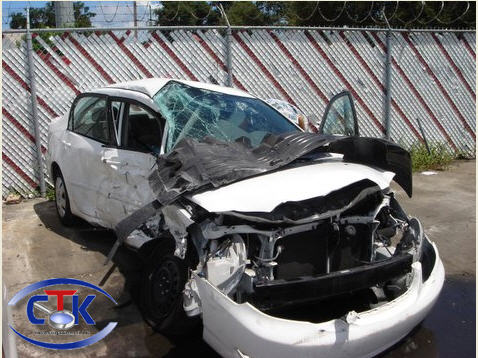 The Florida automobile private investigators at CTK INVESTIGATIONS, LLC, know how traumatic car crashes can be. After investigating thousands of car accidents, our Hollywood Florida private detectives have a comprehensive understanding of what it takes to successfully navigate a personal injury case in Florida. We can explain the following terms to you so that you understand the "personal injury lingo": PIP, BI, UM, UIM, Med Pay, and Umbrella. Moreover we can explain the sequence of events in a car accident, motorcycle accident, ATV accident, scooter accident, or any other traffic accident in Florida. Our private investigators work with the best and most aggressive personal injury attorneys in Florida. Our agency works with many of South Florida's personal injury and car accident lawyers on a daily basis. If you currently do not have an attorney to assist you with your injury and accident claim, we may be able to recommend one of the firms that we work with that has successfully represented our clients in the past. We understand the stresses on your family as well as mounting medical bills, lost wages, and other expenses can be overwhelming. We can thoroughly investigate your car crash, explain what happens in a "typical" car accident case, and we can even possibly recommend a car crash attorney in South Florida to represent your interest.
If you or a loved one have suffered injuries or property damage because of a car crash in Florida, our private detectives can help you. We have successfully investigated thousands of car-crash accidents that resulted in unfortunate injuries from minor to traffic and train related fatalities.
Each year, more than 3 million people are injured in motor vehicle collisions, and more than 2 million of these are permanent injuries:
· There are over 40,000 deaths due to car accidents every year.
· About 40% of fatalities occur because of a drunken driver.
· About 30% of fatalities are due to driving exceeding the speed limit.
· 33% and above, because of reckless driving.
According to the National Highway Traffic Safety Administration 2006 statistics there were 3,374 car accident fatalities in Florida alone. 1,376 of those were alcohol. In 2007, there were almost 250,000 car accidents in Florida. Learning how to drive defensively and always being aware of other drivers is the best way to avoid car accidents. But, with so many accidents, knowing how to drive is not sufficient to avoid an accident. Our private detective agency can assist you if your injury resulted from any of the following:
Car accident
Motorcycle accident
SUV accident
Scooter accident
ATV accident
Truck accident
School bus accident
Train accident
City bus accident
Accident caused by a drunk driver
Hit and run
Rollover accident
Tractor-trailer accident
Defective product
Accidents caused by negligence and carelessness of other drivers
Livestock accidents
If you or a family member was the victim of a car crash due to someone else's negligence, contact, CTK INVESTIGATIONS, LLC today for a FREE consultation about your injury accident and our investigative services.
Cory T. Knight can be reched at (954) 652-0733, or if you prefer you can click here to contact our Ft. Lauderdale / Hollywood Florida private detective agency via e-mail.
We are available 24 hours a day, and offer a FREE consultation to review your case.