COMPUTER FORENSICS

Florida Computer Forensics Experts:
Our South Florida computer forensics experts have a complete and comprehensive understanding of all aspects of forensics investigations. Data Recovery is the science of recovering information from a computer, cell phone, USB stick, memory cards, or any other storage device that may have been deleted or otherwise damaged or hidden.

Our Florida computer forensic specialists will quickly and cost-effectively collect and preserve data or evidence that may have been deleted or become inaccessible through normal computing methods. Moreover, our South Florida private investigators and computer forensics specialists can determine if certain information does exist, and if so, where it might be located. Our forensics experts have over twenty years experience as computer experts and are more than willing to offer you a FREE estimate for your computer, storage device, server, or cell phone forensic needs.

Feel free to contact Cory T. Knight with any questions, or call us today at (954) 652-0733, for your FREE computer forensics consultation.

Topics Covered:
Florida Computer Forensics Experts:
More information about Computer Forensics
Examine a computer to find out what its user has been up to:
Computer Forensics Services We Provide:
Proven reasons for computer forensics:
Recover electronic evidence from the following types of devices:
What can hopefully be recovered with computer forensics?
South Florida Computer Experts:
More computer forensic information:
Computer Forensics Investigation:

More information about Florida Computer Forensics:
Our Hollywood Florida computer forensics experts are involved with the acquisition, preservation, analysis, and presentation of computer evidence. This type of evidence is fragile and can easily, even inadvertently, be altered, destroyed, or rendered inadmissible as evidence. Computer evidence must be properly obtained, preserved, and analyzed to be accepted as reliable and valid in a court of law. The South Florida private investigators at CTK INVESTIGATIONS, LLC along with our computer forensics experts have many years of experience in confidentially evaluating your computer forensics, and all of your forensic needs.

After comprehensively evaluating your needs, we will enter the next phase of our investigation which is preserving the evidence. Preserving the integrity of case evidence is paramount, and therefore our Florida computer forensic investigators do not work on the original files themselves. Instead, we create an exact replica of the files and work on this image to ensure that the original files remain intact. We can attempt to obtain the information and potential evidence needed for you to feel secure, defend your position in court, or simply retrieve information you thought was lost forever. Our South Florida computer forensics experts have handled death threat cases, employee theft cases, and even cases where doctoral students wrongfully deleted their dissertation.

The next phase of our forensic investigation is to verify the files we are working on have not been altered. Our computer forensics experts and South Florida private investigators can compare a hash of the original files at the time they were seized with your permission. Hashing provides mathematical validation that a computer forensic image exactly matches the contents of the original computer. Moreover our experts can testify to substantiate our findings.

Our South Florida computer forensics experts understand that another important legal element in computer forensics is the continuity, or chain of custody, of computer forensic evidence. The chain of custody deals with who has supervised, acquired, analyzed, and controlled the evidence. The computer forensic experts must be able to account for all that has happened to the evidence between its point of acquisition or seizure and its eventual appearance in court.

Unfortunately, we come in contact with clients where personnel trained in information technology have made incriminating computer evidence legally inadmissible because of their reckless forensics examinations. Only properly trained computer forensics specialists should obtain and examine computer evidence.
Our Florida computer forensics experts can and will provide complete forensic services in a timely and ethical manner. These forensics services include but are not limited to: electronic discovery consultation; onsite seizure of the evidence; thorough processing of the evidence; interpretation of the results; reporting the results in an understandable manner. We can and will make accommodations to retrieve the information at whatever hour of the day is conducive to maintaining anonymity and confidentiality.

Through use of the latest technology and techniques, our Florida computer forensics experts provide cutting edge services such as computer forensics and technology related investigations by licensed Private Investigators and computer technicians with the requisite experience and certifications necessary to obtain, recover, and document any possible information available.
To further assist you in formulating policies and strategies to safeguard your information and minimize time wasted by employees surfing the web Internet usage, we may be able to provide our clients with a template policies and procedures notifying their staff of the corporate policy on computer usage and penalties for failing to abide by these rules. Please also ask us about our computer monitoring software that we can install on your server which will enable you to stealthy monitor your staff's computer activity. If you are interested, we can further service your surveillance needs by installing exposed or covert security cameras both in the interior and exterior of your office. As with all computer forensics there are no guarantees that data will be recovered, however our computer forensics experts will recover any data that is available for recovery.
Top of Page






What can hopefully be recovered with computer forensics?
Deleted computer files can be recovered.
Even after a hard drive is reformatted or repartitioned, data can be recovered.
In many instances, encrypted files can be decrypted.
What web sites have been visited can be captured
What files have been downloaded.
When files were last accessed, and by what user.
When files were deleted.
Attempts to conceal or destroy evidence.
Fax machine history.
Digital copy machine information and history.
Examine a computer to find out what its user has been up to:
Server failures
Back up drive failures
Employee misconduct
Corporate espionage
Computer tampering
Infidelity
Lost documents
E-mail threats
Computer Forensics Services We Provide:
Analysis of computers and data
Onsite seizure of computer data
Analysis of company computers to determine employee activity or misconduct
Assistance in preparing electronic discovery requests
Reporting in a comprehensive and readily understandable manner
Discreet and confidential computer forensic services
Proven reasons for computer forensics:
Corporate Risk Assessments
Network Intrusions
Digital Evidence Examination
Recent Internet History Evaluations
Forensic Services
Track and Resolve Computer Intrusions (Hacking)
Cyber Stalking Investigations and Cyber Harassment Investigations
Detection and Disabling of Unauthorized Terminal Capture Program
Identification of Hidden Locations Where Files are Created
Recovery of Deleted Data
Child Enticement
E-mail Recovery
Virus Removal
Chat Room and Instant Message Tracing
Child Pornography
Computer Forensics to Recover Instant Messenger Messages
Stalker and Harassment Cases
Litigation Support and Expert Witness Testimony
Covert and Undercover Assignments



South Florida Computer Experts:
Our computer experts can not only set up your server, install all firewalls and safety measures, but we can establish computer rules for what websites you choose to allow your staff to visit. We offer comprehensive computer services from an hourly computer rate to monthly all inclusive service contracts that cover all of your computer related issues. For the busy office that does not have the time to deal with computer issues, or completing updates, ensuring your backup is running daily, as well as establishing a game plan for hurricanes or total server failure. We offer data storage offsite and out of the state so that in the event of a hurricane or other server failure, you will have the ability to access all of your data and run your office remotely. While you are working from our offsite and out of state server without missing a beat, our computer experts will have all of your programs necessary to rebuild your server and migrate your data locally. It may seem extreme, however we are in the security industry and part of our services include providing video surveillance, computer forensics, as well as computer maintenance and service contracts so that our technicians and engineers will ensure that we monitor your server as well as all end user computers on your network. For medical offices, we deliver complete IPAA compliant services. Again our computer experts can and will handle all of your tech related issues when you are on a monthly service contract, and our help desk is an option that is available during regular office hours or 24/7, depending upon your computer monitoring and service plan. Our experts can service all managed network services for south Florida law office, South Florida medical offices, and many other industries. Please feel free to contact Cory T. Knight or one of our computer experts today so that we can discuss your comprehensive computer needs.
More computer forensic information:
In today's technologically advanced society, we may not realize that when you fax a document, when you copy a document, when you send an e-mail, all of this information is potentially imprinted and stored on the local machine or the hosting server depending upon the network configuration. It is frightening to comprehend that the confidential document that you faxed or copied can and probably is stored on the fax machine or digital copier. We have encountered situations where partners of law firms made confidential copies on their copy machine and upon examination of the network; our computer forensics experts were able to provide the confidential document to them. While shocking, this is the brutal reality of the digital age. Fax machines, digital copiers, and many devices we use on a daily basis can store virtual copies of our data. That data is available for those that understand how to access it.
It is rare for the masses to communicate with snail mail in today's fast paced corporate environment. We use social networking websites to communicate with possible business contacts and the use of e-mail is a mainstay in the majority of our communications. How many times have you rapidly typed jokes, or correspondence to friends, family, or business associates? Daily, or many times during the day? These e-mails are captured and stored, even when deleted. This form of communication can and has been used in criminal and civil cases and is admissible in court. If you wish to evaluate your office for possible intrusion threats, virus assessment, server stability, strength of firewall and network, call Cory T. Knight or any of our computer consultants and engineers. We can review your network and provide you with a comprehensive assessment of your network. We literally live in a world where an e-mail can be embedded with a ghost program that can access your data and allow the sender of that e-mail to read, copy, and store your data without your knowledge. You would not leave front door to your house open would you? Why would you potentially leave the "door" to your office open?
As licensed Florida private investigators, we approach each case as we would any other type of confidential investigation. Our investigative approach to computer forensics is not shared by many of the "computer experts" in South Florida whose idea of an "investigation" is to hope that the forensic software they purchased will find the data you need. Our computer forensics software is a vital part of this unique investigation. If you need knee surgery after a sporting injury you visit an orthopaedic surgeon, not a general practitioner. Accordingly, why would you hire someone who is not a computer forensics expert or private investigator to investigate your confidential computer cases and help with your computer forensics investigations? We apply our years of training and our investigative mindset to every computer forensic case. The common denominator we have come to realize in computer forensics investigations is that you get what you pay for. As experts, we have encountered far too many "computer experts" who have elected to dabble in this arena but are either unable to find the data that their client needs or who cannot substantiate the conclusions they draw. When results matter most, call the computer forensics experts at CTK INVESTIGATIONS, LLC today to speak with Cory T. Knight, or one of our computer consultant or engineers about your Florida computer forensics needs.
We have assisted Florida businesses, Florida attorneys, Florida medical practices, Florida surgical centers, Florida MRI Company's and many individuals in various computer forensics cases. Our South Florida computer forensics experts have worked on a variety of cases including some of the following: data theft, threat assessment, network stability, software infringement, fraud, breach of contract, embezzlement, trademark infringement, copyright infringement, conspiracy, child pornography, trade secret misappropriation, data misappropriation, stalking, asset locating, sexual harassment, theft of corporate assets, intellectual property violation among many other requested forensics investigations.
Top of Page


Our computer forensic investigations can recover electronic evidence from the following types of devices such as:
Hard Drives
Back-up Storage Media
Databases
E-mail Servers
Web Servers
Internet Sites
Personal Digital Devices (Blackberries and cellular telephones)
USB Memory Sticks
Camera Storage Cards
Top of Page




South Florida Computer Forensics Experts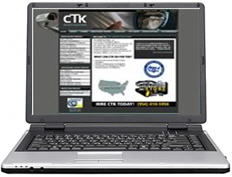 Computer Forensics Investigation:
When it comes down to it, you need a proven leader in high technology forensics solutions that's licensed to practice investigations. Many times we have to correct the mistakes of misled IT technicians and ill-equipped users. In our computer forensics lab we take forensics science to a new level. Feel free to contact Cory T. Knight or any of our South Florida computer experts today to help with all of your computer related issues.
CTK INVESTIGATIONS offers highly technical computer investigations and computer usage analysis. Our experts are all highly certified network and computer engineers, specially trained private investigators, and forensic technicians; we can conduct data analysis whether it is completed via remote session or an on-site investigation. Depending upon your needs, we offer either an hourly rate or a soup to nuts comprehensive service agreement. Our on call computer engineers are available either during working hours or 24/7 depending upon your plan to resolve your issues. We are local and we do not outsource our work to other countries for technical advisors. Call us today at (954) 652-0733 to discuss your computer security, computer forensics, computer maintenance, server installation, and network solutions.
Our computer forensics experts are capable of retrieving data from Windows, Apple/Macintosh, Unix, Linux, Novell, and most other computer operating systems along with interstate Internet and E-mail communications. Our South Florida forensic expert consultants are available for both the prosecution and defense cases as the facts speak for themselves.
Intent is a key issue with some forensic investigations. Recovered data may show which particular files were deleted or removed and is a valuable insight into what the user was trying to do at the time of the deletions. Computer forensics is the scientific examination and analysis of data held on, or retrieved from, computer storage media in such a way that the information can be used as evidence in a court of law. If you feel that you were a victim of employee espionage or employee theft of your data, call our South Florida computer forensics experts today to see how we can help.
As always, please feel free to contact Cory T. Knight at (954) 652-0733, or any of our Florida private investigators for a FREE computer forensics consultation. If you prefer, you can click here to e-mail us. Our Florida private investigation agency is here to assist you.